By adopting the Sanipill system, we have chosen a mobile system capable of sanitizing the pillow in depth. In just a few minutes we can achieve absolute hygiene and disinfection and a pleasant feeling of freshness and cleanliness, ensuring that there is hygienic certainty between one customer and another.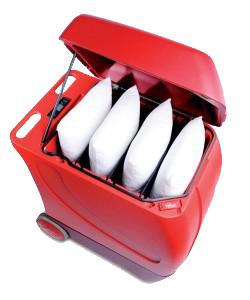 A plus of our structure: adopting the pillow sanitation system allows us to guarantee you a safe sleep from mites and microorganisms, keeping you away from dangerous bacteria.
250 million people suffer from allergies caused by mites, allergies that affect the respiratory tract causing chronic rhinitis and bronchial asthma, but also dermatitis that affect the epidermis.
The sanitizing treatment we adopt at Roxy Plaza sanitizes and deodorizes through a forced ventilation treatment, the passage of ozone through the cushions guarantees the sanitization and fragrance of the cushions that we put at your disposal every day.
A pillow makes the difference in daily rest, we have made it a feature of our structure, to guarantee you a safe stay with a peaceful sleep.
For more informations: http://sanipill.it/